Projects in progress: a UK Aid Match team visit to Nepal
27 February 2023
In September, Performance and Risk Managers, Patrick Douglas and Tom Barton for UK Aid Match visited Nepal to see four UK Aid Match projects in progress and offer their support. These were World Child Cancer, Practical Action, United World Schools and ZSL.
In detail
In Kathmandu, World Child Cancer – an international children's charity dedicated to addressing global inequalities around childhood cancer care – are working with partners Together Against Childhood Cancer (TACC) and Ramesh Gupta Memorial Trust (RGMT), along with Kanti Children's Hospital, on a three-year project to improve paediatric oncology outcomes in the capital, as well as in provincial hospitals in Pokhara and Nepalgunj.
Over the three-day visit Tom and Patrick had the privilege of visiting the partners and Kanti Children's Hospital (where the work is being implemented by TACC staff), meeting doctors and nurses, hospital directors, and the patients and families receiving life-saving cancer treatment, as well as financial and psychosocial support.
Despite working in a sector that was severely impacted by the COVID-19 pandemic and experiencing a shortage of staff in nurses (across the Kanti Hospital departments), it was encouraging to be able to see the progress they have been making to strengthen the data systems and build the capacity of their staff, resulting in an improvement in care received by children with cancer.
Practical Action is an international development group focused on working with communities to develop lasting and locally owned solutions to climate challenges and gender inequality. This UK Aid Match project is being delivered in remote hills: in the Dang District – Dangisaran and Shantinagar municipalities -, Rolpa District – Rumtigadi, Triveni, Thawang and Pariwartan -, and Rukum East District – Bhume and Puthauttarganga. The organisation is working with partners, Development Concern Society (DECOS), to build climate-adaptive farming opportunities and improved livelihoods for women and marginalised groups.
Whilst the project had only recently started when the visit took place, the UK Aid Match team were delighted to be able to meet communities who had been selected to participate. Work had started in building water and market infrastructures, and planting the climate field school. Whilst there, they also spoke with the local government who had been involved with the project from the beginning, when selection had taken place of the most marginalised communities.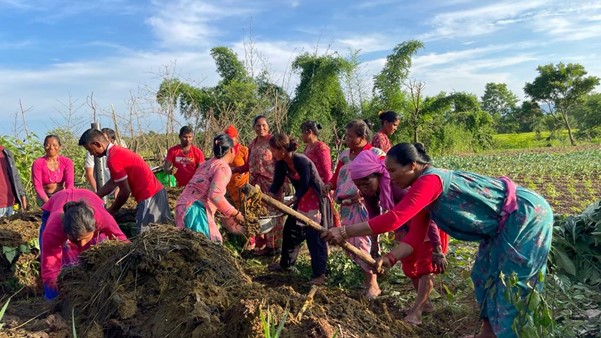 United World Schools – an organisation whose mission is to improve life opportunities for the poorest children living in remote and marginalised communities through education – are working in the rural districts of Gulmi, Sankhuwasabha, Taplejung, Morang and Chitwan to deliver a three-year primary education project, focused on increasing enrolment and retention of children living there. Our team met their team in Kathmandu and gained a good understanding on the progress they had made so far – as well as the challenges they are facing in developing education facilities in such remote locations.
International conservation charity, ZSL are working with Himalayan Nature and Mithila Wildlife Trust to develop the Stewardship and Rural Development (STEWARD) model for poor and marginalised 'frontier communities' living alongside protected areas. These communities rely heavily on natural resources for subsistence and livelihoods and are vulnerable to illegal activities that offer a fast and high value return. This represents a major challenge for sustainable development and conservation.
The aim of this project is to improve the livelihood prospects and economic wellbeing of vulnerable people and to protect high-value wildlife in two critical conservation areas: the Terai Arc Landscape and Tsavo Conservation Area.
Thank you to all who showed us around. We look forward to sharing further your achievements and impact.