Projects in progress: a UK Aid Match team visit to Malawi
29 June 2023
In May, Gem Clark, Fund Portfolio Manager for UK Aid Match, and Emma Hayward, Performance and Risk Manager for UK Aid Match travelled to Malawi to visit four grant holders: CBM Global, Sightsavers, UNICEF and World Child Cancer.
One term that was used by all grant holders throughout the visits was 'poly-crisis'. In recent months and years, Malawi has suffered from multiple crises such as ongoing impacts of COVID-19, the global economic crisis, a cholera outbreak, and most recently a devastating cyclone. These issues are in addition to the already challenging Malawi context, where road quality/access, fuel shortages and increased cost of living are real barriers to organisations delivering projects.
During these visits, the team had a chance to see how the grant holders' projects were progressing, learn more about how the 'poly-crisis' is affecting them, and hear from the communities on how the projects are positively impacting them.
Below is a short write-up for each project the team visited.
Improving access to quality, inclusive and comprehensive eye health services for marginalised rural communities in Central-Eastern Malawi – CBM Global
Through its three-year UK Aid Match project, CBM Global is improving access to eye health services in rural districts in Central and Eastern Malawi. In particular, the project is looking to enable people who are blind from cataracts with sight-restoring surgery. By partnering with the Malawi Network of Older Persons' Organisations (MANEPO), the project is able to focus its efforts on older people, for whom cataracts are a particular problem.
Only 45% of blind people have access to cataract surgery due to reasons such as lack of eye health workers, services and access. Specialist hospitals are often long distances away from people living in rural areas, meaning there is no option for them to receive the care they need. CBM Global is working to change this by providing training and equipment to eye health workers, and running cataract outreach camps where people can attend and receive specialist treatment.
During the visit, the project delivery team explained that fewer people than expected were attending eye health screenings and surgical camps due to fuel shortages and the cholera outbreak, as people were not wanting to attend large gatherings. Despite this, the team is continuing to reach out to remote communities, ensuring that health workers are trained and have access to specialist equipment in order to treat patients who are able to access community hospitals. These workers will remain in their communities and continue to raise awareness of, and identify, eye health issues once the project ends. Through its partnership with Nkhoma Eye Programme, the project is also supporting two trainee ophthalmic surgeons to complete their qualifications, which will give a boost to the eye health system after the project has ended.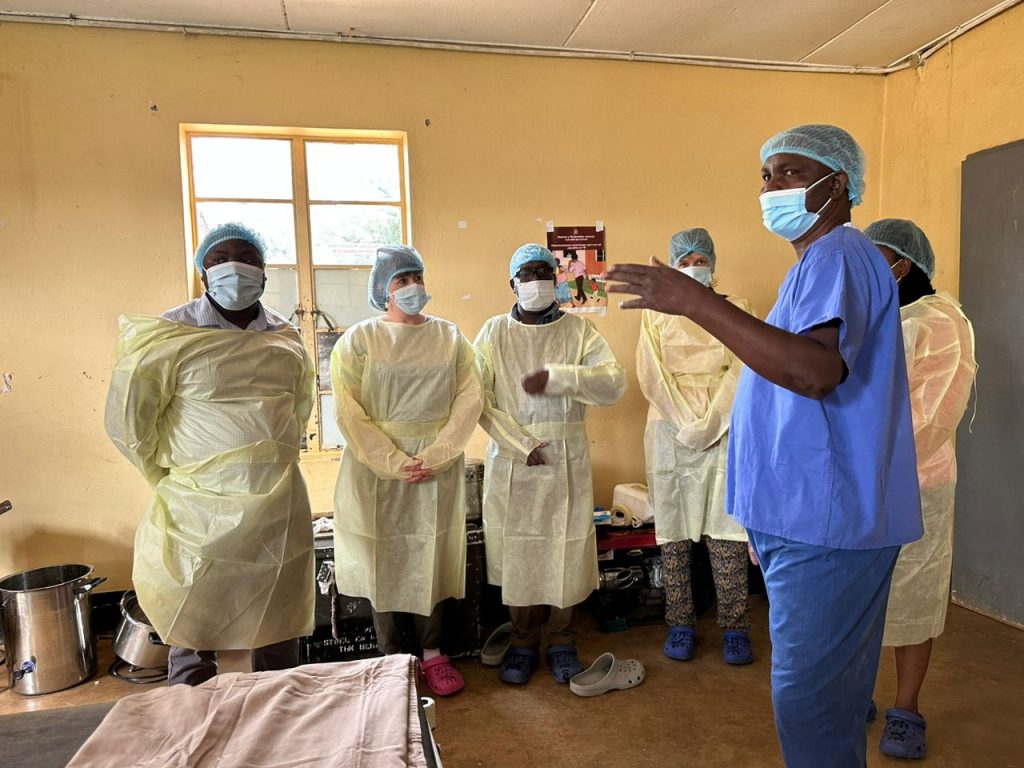 Improved access to affordable, quality eye care services for people with and without disabilities in South-West region, Malawi – Sightsavers
Sightsavers' UK Aid Match project aims to improve access to eye care services in Malawi over a three-year project period. As well as providing cataract surgery to avoid blindness, the project has a specific focus on reaching people who traditionally face barriers to accessing much needed eye health care, including people with disabilities.
In addition to providing eye examinations, and offering treatments and operations which will contribute to overall eye health, the project is working with the Federation of Disability Organisations in Malawi (FEDOMA) to improve accessibility of several health facilities for people with disabilities.
During the visit the team learned that Sightsavers was investigating ways to reach more vulnerable people, such as older people and people with disabilities, through running eye health awareness raising activities and screenings at social protection camps. This has worked well in the Uganda part of this multi-country project, and it was good to see an example of shared learning within the project.
It was clear that the project was transforming people's lives. At one home visit, a patient and his wife explained how their lives were badly affected by his disability (below leg amputation related to diabetes), as well as visual impairment prior to his cataract surgery. Since the surgery their lives have improved dramatically, and the patient is scheduled for further eye surgery on his other eye.
Building safe, inclusive and resilient communities for women and children in Malawi – UNICEF
Through its UK Aid Match project, UNICEF ensures that women and children are safe, happy and healthy.
In rural communities in Malawi, UNICEF has established Children's Corners, where children can learn about their rights and play safely. The project is training child protection workers and supporting structures such as Community Victim Support Units to identify and respond appropriately to child protection issues and cases of violence. The project has also brought safe water and sanitation to communities. As well as improving everybody's health, this reduces the security risks faced by children and women when leaving the relative safety of their homes and villages to use communal facilities or collect water. Families can access sanitation loans to upgrade latrines, in a model that creates economic opportunities for shop owners and pit emptiers.
From the visit, it was clear that displacement and loss of livelihoods caused by the cyclone has increased the urgency of child protection needs. Children face exploitation in return for food and shelter, and malnutrition is rising due to the cholera epidemic. UNICEF has responded directly to these issues by extending psychosocial support and psychological first aid to survivors of the cyclone and ensuring children have access to safe corners within their communities. In addition, through the sanitation loans, families have reduced the impact of the cholera epidemic in their communities.
Reducing child mortality in Malawi whilst increasing wellbeing and quality of life – World Child Cancer
In Malawi an estimated 1,100 children develop cancer every year. Due to the lack of health care knowledge and training on identifying early warning signs and symptoms (EWSS) of childhood cancer, only a quarter of children diagnosed will survive.
Through its two-year UK Aid Match project, World Child Cancer is delivering training for health workers and supporting families to ensure that cancer can be diagnosed early, and that treatment is completed. The project is working across 14 Districts in South and Eastern Malawi to improve the quality of life and wellbeing of children and their families affected by cancer.
Often when there is detection of cancer in a child, the first point of contact is a community hospital, where staff lack advanced knowledge and means of diagnosis and further treatment. Now that they have been trained in EWSS, community health workers are able to quickly refer families to District or Central hospitals for further tests. In addition, the project is supporting Queen Elizabeth Central Hospital (QECH) via outsourcing an independent pathology lab, which allows for immediate, free testing for families and significantly speeds up diagnosis and treatment. Although the current 'poly-crisis' has increased the cost of transport, immediate travel to QECH is essential to ensure children can get the treatment they need. The project is offering support to families through transport grants and providing welcome packs on being admitted to the hospital. This is perceived as essential psychosocial support to families who commute from long distances without the basic items they need to stay in hospital.
Another important part of the project is the provision of play therapy sessions, designed to reduce the fear and anxiety children often feel when undergoing treatment. Through UK Aid Match, Malawi's first paediatric oncology Play Therapist is now trained and offering support to children and families on the ward at the QECH.
By removing some of the economic and psychological barriers to seeking treatment, World Child Cancer is making sure that treatment isn't abandoned, which increases the child's chance of becoming cancer free and living a healthy and happy life.
A thank you
We would like to take this opportunity to thank all the organisations and individuals involved with these visits. We really appreciated all your time and continued hard work.