Leading sight and disability rights NGO, Sightsavers welcomed a royal visitor to Malawi last month to celebrate the elimination of trachoma in the country
10 November 2022
Amos an 82 year old man from Malawi was blinded by cataracts for three years. Thanks to donations from the British public, doubled through UK Aid Match, he received surgery from Sightsavers and is now able to see again.
On 14 October, HRH the Countess of Wessex met Amos and others who were having their bandages removed. Amos is deaf so relies on his grandson Gwede Pemba. Gwede shouts loudly in Amos' good ear. Gwede describes his grandfather's life as having lots of difficulties. "Everywhere he goes, I'm there to hold his hand."
He describes the experience post-surgery as wonderful, "beyond expectations" far more than he'd expected. "In his life what was missing was the light. Now he is a free man." When his bandage was removed Amos looked first surprised and then delighted. His grandson asked: "Do you know me?" "Yes", replied Amos; "You are my child."
How is he feeling now after surgery? "I'm very, very good."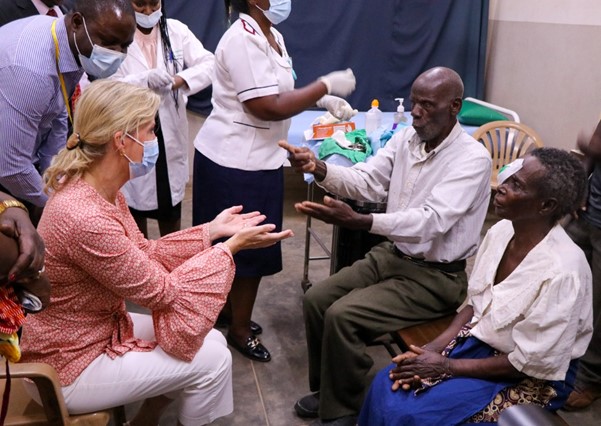 The UK Aid Match appeal project is a three-year programme that is improving access to quality eye care services and treating avoidable blindness for people with and without disabilities in the South-West region of Malawi as well as in Karamjoa in Uganda. The project is scheduled to end 31 October, 2023.
Watch this short video of HRH the Countess of Wessex in Malawi on the special celebratory visit.
Read more about the appeal and the programme on SightSavers dedicated webpage.
Photo credit: @UKinMalawi