Children with disabilities being given a fair chance to education in South Sudan
23 February 2023
SCIAF (The Scottish Catholic International Aid Fund) is improving the lives of children with disabilities, their families and their communities through a three-year UK Aid Match project, Children Together.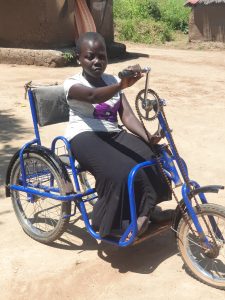 This is Cicilia from Mundri in South Sudan and she has six siblings. When she was nine, she began to experience pain in her knees and over time both of her legs weakened. This meant that she was forced to drop out of school. Some years later she was also diagnosed with epilepsy and suffered multiple seizures a day. The medicine needed to stop her seizures was not available at the local hospital, and could only be accessed at a private clinic far from her home. Cicilia's disability became more severe over the years, resulting in her being unable to walk or stand. She had no way to get around.
In South Sudan, getting to school can be a real challenge. Long distances, a lack of infrastructure, and flooding from heavy rains can make the journey to school dangerous – and sometimes impossible – for young people. For young people with disabilities, school is often not an option at all.
Through SCIAF's Children Together project, match funded by UK Aid Match, SCIAF is helping young people like Cicilia to get back in the classroom.
Run by their local partner Sudan Evangelical Mission (SEM), the project is working to adapt six schools to be more accessible for children with disabilities by building ramps and training teachers in how to deliver lessons that are inclusive. Young people are receiving aids such as wheelchairs, tricycles and canes so they can move around, and healthcare they may need to be well enough to attend school.
For Cicilia, this means she now has medicine to help with her epilepsy – now only having roughly one seizure a month – and has a tricycle which allows her to get around to attend activities in her community. To get to school, Cicilia has to cross a stream in her area and her community have come together to create a small bridge over the stream for her to travel over. With these tools and support, Cicilia is set to start school this month.
Find out more about the project on SCIAF's Children Together project page.
Photo credit: SCIAF