UK Aid Match is currently not accepting applications. If you would like to be informed when the next funding round opens, sign up to our newsletter.
The full application is the second step of the UK Aid Match application process. Those who have been successful at the concept note stage will be invited to submit a full application. A timeline of the application process can be found below.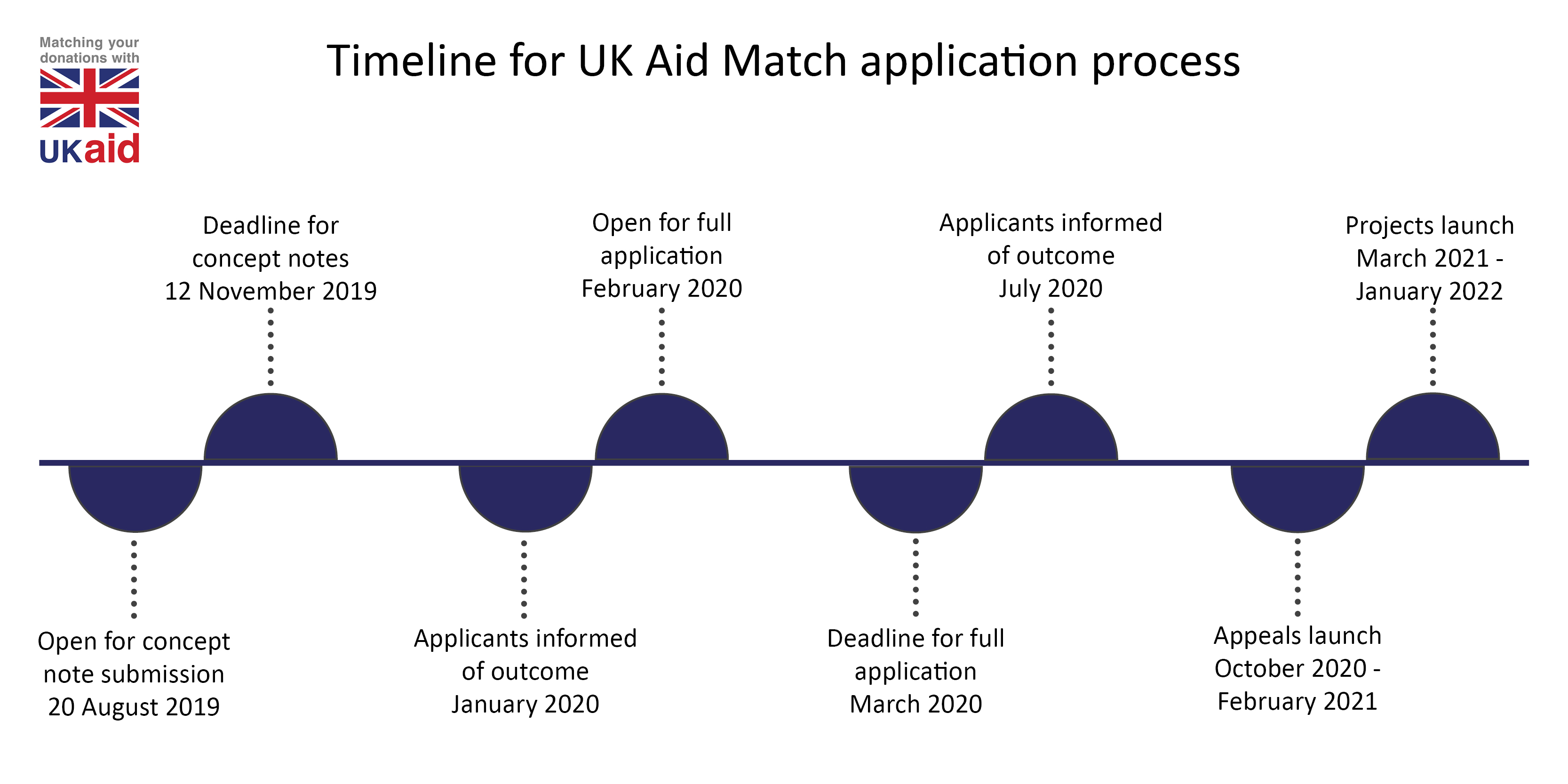 Full proposals will be independently assessed after the deadline for submissions has passed and following approval from the Foreign, Commonwealth & Development Office (FCDO), the shortlisted applications will be offered a provisional award of funding, subject to satisfactory completion of a due diligence assessment.
Completing your full application
All applications must be made through the online portal. At the full application stage, the following documents must be provided:
The project rationale and justification (including baselines to indicate/estimate the scale of the problem)
A clear and simple theory of change, outlining assumptions
The specific improvements that would be seen by the end of the project
A simple graph showing the expected improvements over time
The scope of work and top priorities
The project approach explaining how the improvements would be delivered in the time available
The main risks and mitigating actions
Organisational credentials and the achievements of the proposed team members, including those delivering the appeal
The approach to sustainability
The stakeholder engagement that has taken place
The project's approach to promoting gender equality, disability inclusion and empowerment (including linking with the leave no one behind agenda), women and girls with disabilities, women and girls affected by gender-based violence or the threat of violence
The approach to monitoring and evaluation
Value for money of the anticipated change
Delivery chain and risk map setting out the flow of the project funds
Realistic budget
A completed C1 appeal communications proposal form
A completed C2 communications proposal form
Get in contact with the UK Aid Match team to find out more about the application process.