ZSL helps Nepal to double wild tiger numbers
1 October 2019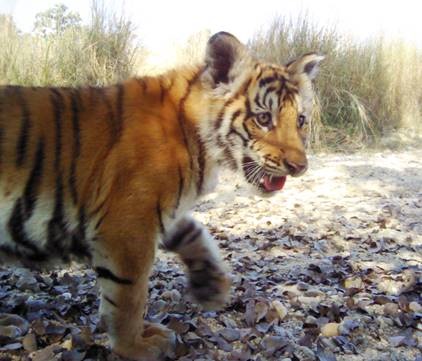 International conservation charity Zoological Society of London (ZSL) launched its 'For People. For Wildlife' UK Aid Match appeal today (1 October), in an effort to double Nepal's tiger (Panthera tigris tigris) population.
With fewer than 4,000 tigers left in the wild across Asia, a significant step towards saving these endangered big cats is underway. Nepal's wild tigers increased to 235 in 2018 from only 121 in 2008 thanks to dedicated conservation by local people, the Nepali government and ZSL. But the future of these extraordinary animals is a long way from secured.
ZSL's Dr Hem Baral, Nepal Country Manager, said 'In Nepal, we are very proud of our wildlife, but when peoples' livelihoods are threatened, some are pushed into wildlife crime to support their families, such as going into national parks to hunt. ZSL has been working in Nepal for nearly 25 years, supporting communities and changing attitudes towards wildlife conservation. With starter loans and training, people can build legal, safer and more sustainable livings such as: dairies, hotels, beauty salons and tailor's studios. This breaks their dependence on the forest.'
Through its UK Aid Match appeal, ZSL will expand programmes in Nepal helping communities to plan and create environmentally sustainable ways to make a living and build the same opportunities for people in Kenya too.
Drawing on a track record of empowering communities across Asia and Africa, ZSL will alleviate the pressures of poverty which make communities in Kenya – home to rhinos and elephants – vulnerable to exploitation by the international illegal wildlife trade. As a UK Aid Match appeal, all donations from the British public will be matched by the UK government.
International Development Secretary Alok Sharma said: 'Building sustainable livelihoods in rural communities is essential to reducing poverty and creating long-term independence. That is why I am proud to support ZSL's vital work, which is empowering impoverished communities in Kenya and Nepal directly affected by wildlife crime, while helping forests to thrive.'
Find out more on the appeal website.