UK public will support disabled children in Uganda to go to school
3 December 2019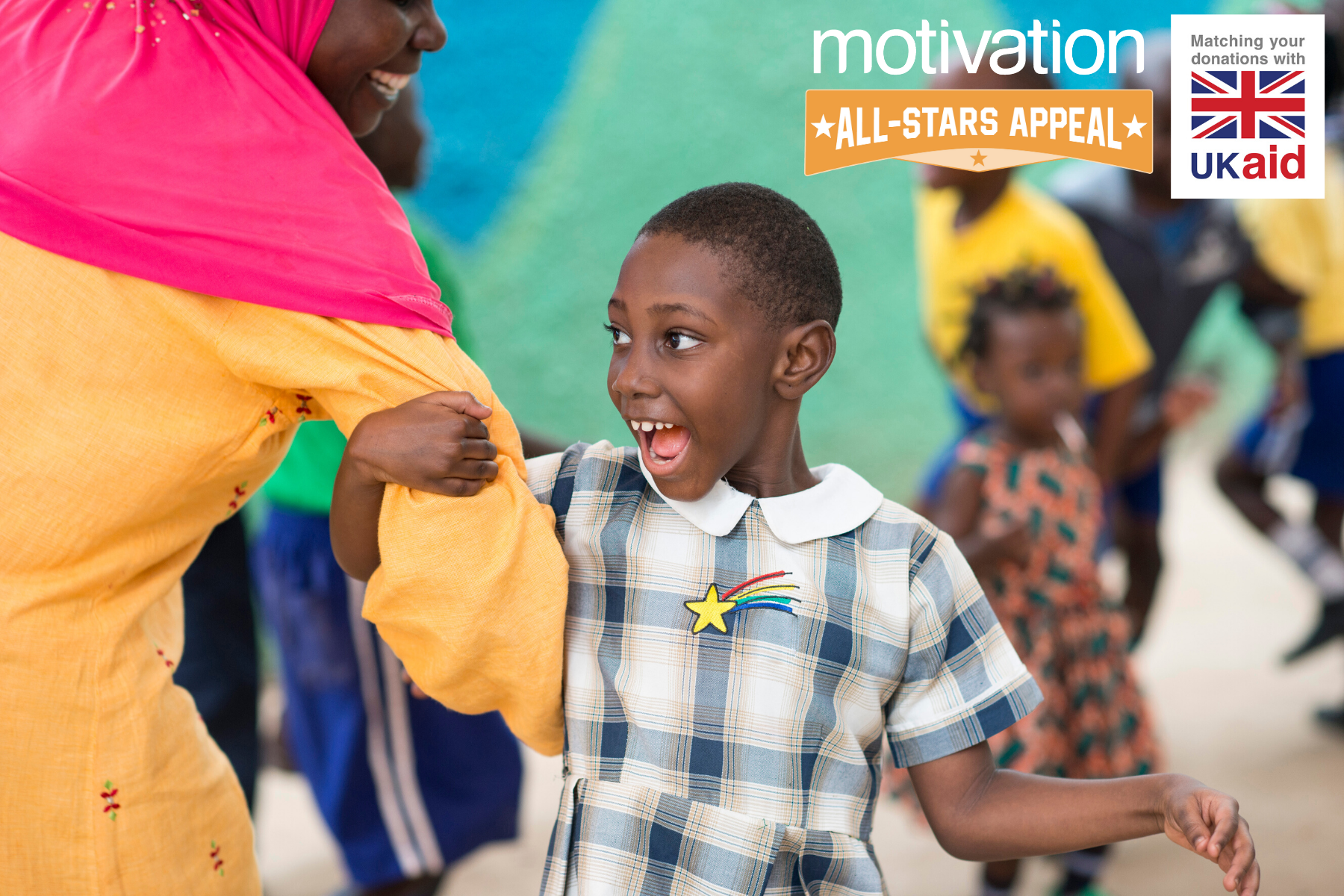 To mark International Day of People with Disabilities, UK charity Motivation today launches their UK Aid Match 'All-Stars Appeal', which will support children with disabilities in Uganda to go to primary school.
This year's theme for the day, determined by the United Nations, is 'the future is accessible'. But the charity points out that this message sadly does not apply to the 91% of disabled children in Uganda who currently miss out on primary education due to discrimination. Stigma around disability denies disabled children a chance to learn, socialise or even join in with their communities.
Without vital schooling, disabled children are left with low confidence, limited job prospects and little hope of becoming independent. When disabled children – like Waldah – are included at school, it makes all the difference to their lives.
Waldah is the only disabled child at her school in Uganda, but her teacher Qasasa works hard to make sure she can join in:
"Waldah is really good. She takes a longer time to learn, but the end result is very good… She has improved so much through playing with the other children."
After having a chance to join school, Waldah has built confidence, become more mobile and started making friends. Her mum, Lucy, is thrilled with her progress:
"Waldah has changed completely – she couldn't speak three years ago but now she can speak! She can walk and she can really sing. She is eating independently, and her communication is good. "
Motivation's All-Stars Appeal will use sports and games to break the stigma around disability and ensure all children can be included – in school, on the playing field and in community life.
The appeal aims to raise £240,000 and all public donations between 3 December 2019 and 3 March 2020 will be doubled by the UK government.
With donations doubled, Motivation can create sports clubs that will give disabled children the confidence to play shoulder to shoulder with non-disabled peers. They can provide teacher training to create schools where differences are embraced and everyone has the chance to learn. They can train sports coaches to mentor disabled children and teach them about their rights.
Jordan Jarrett-Bryan (Channel 4 presenter, former wheelchair basketball star, disability sport mentor and Motivation supporter) said:
"I know what it's like to be excluded because of how disability is perceived. At 13 I was told that I couldn't be part of my football team anymore – it was crushing. I couldn't join in with my friends and for the first time it felt like my disability was holding me back. But when I discovered wheelchair basketball everything changed: it totally restored my belief in what I could do with my life.
"So I'm delighted to support Motivation's All-Stars Appeal and help give disabled children in Uganda the chance to be champions too. By using sport and play to break local stigma around disability, Motivation will ensure all children can go to school and build positive futures. This appeal is a great chance to make real change."
Jennifer Browning (former Paralympian and Motivation Trustee) said:
"All children have dreams, ambitions and a desire to succeed. We believe that disabled children should be given an equal chance to show what they can do when given a chance to join in. We know that sports and play can provide an inclusive environment, so that disability is no longer seen as a barrier to achievement.
"We're grateful to everyone who supports Motivation's All-Stars Appeal. You will be helping us to level the playing field for generations of disabled people."
David Constantine (Motivation's Founder Director) said:
"It is shocking to think that so many disabled children in Uganda miss out on education, simply because their teachers and families don't see their value. We want to change that. By using sports and play to create an inclusive environment, we will support disabled children to show what they can achieve when given an equal chance.
"We're grateful to everyone who supports Motivation's All-Stars Appeal and has their donation doubled by the UK government."